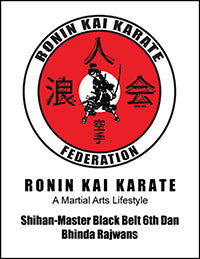 RONIN KAI KARATE
RONIN KAI KARATE A Martial Arts Lifestyle by Bhinda Rajwans
Sale price Price $80.96 Regular price
The Author Shihan /Master Bhinda Rajwans 6th Dan started Samurai Karate in 1982 with Master Paul Desmarais,7th Dan Black Belt. Desmarais was one of the first students of Master Roger Lesourd, 8th Dan Black Belt who was the father of Kyokushin Karate Canada 1966 and then went on to create Samurai Karate in 1975. Lesourd was also one of the first students of Mas Oyama (creator of Kyokushin Karate) 1st Branch Chief in Canada. I was fortunate enough to be able to train with many 1st and 2nd generation teachers from the 1960s-70s, and with masters of Judo, Aikibudo, and many other styles of Karate, Kung Fu Kempo, and Kobudo.
Ronin Kai Karate's book lays the structure & missing practices in our martial arts styles throughout he world dojos. He outlays the complete style of Ronin Kai Karate from Yellow belt 1st rank to the last rank, Black 6th Dan Shihan-Master. He also discusses the off-dojo concepts of life and how Ronin Kai karate will be part of your life to help you navigate your challenges.
Ronin Kai Karate has a strong foundation in Kyokushin Kai from the 1960s and Samurai Karate from the 70s and 80s. The removal of all old injury-causing movement practices. He also developed a Kobudo martial weapons system. This combined off-dojo life skills and code 7 virtues of conduct to help you deal with daily life so that you can practice Ronin Kai Karate for your entire life.
The dojo never leaves you! OSU